Howard Leight Impact Sport Electronic Earmuff R-01526 4 Pairs
in stock
 Listen AND Hear! Research proves over and over again that continued exposure to excessive noise levels can cause long term damage to a person's hearing. It can happen where we work, but also where we play and have fun too! And that includes at the shooting range, racing car rallies, air shows and at rock […]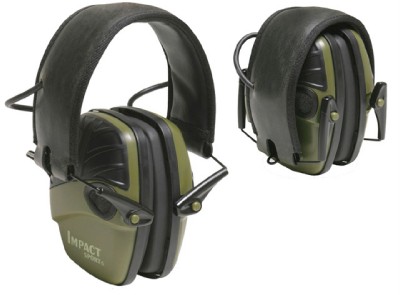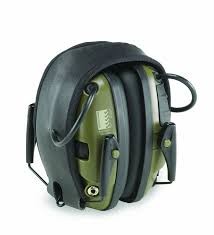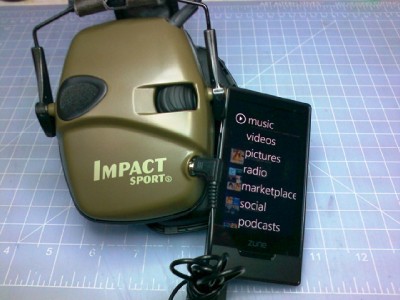 Listen AND Hear!
Research proves over and over again that continued exposure to excessive noise levels can cause long term damage to a person's hearing. It can happen where we work, but also where we play and have fun too! And that includes at the shooting range, racing car rallies, air shows and at rock concerts. Ringing or sore ears are telling signs of damaging noise levels, but why wait till your ears are literally screaming for protection!….You can protect your ears very easily!
Read on to find out how…
   What did you say?       
I have worked in pretty noisy environments for most of my working life – in a steel mill for 18 years, then as a carpenter where I regularly use noisy power tools such as circular saw, hammer drill, jack hammer. In my leisure time, I enjoy going to concerts, car races and have been a member of a shooting range – all very noisy places! From time to time, I would plug in the foam earplugs, but mostly I couldn't be bothered.
Yeah sure, my ears would be a bit (or a lot!) sore at the end of the day, but I didn't do too much about it…until recently when after having getting the results of a hearing test, I decided I simply didn't want to damage my ears any further. I also saw friends having to live with the inconvenience, agony and isolation of severe hearing loss. I really didn't want that kind of future for me, especially when I could easily prevent more damage. So, I spent some time checking out what was in the market place because I wanted a product that is top quality and would actually work.
Turn It Down! Turn It Up!
I came across a pair of Howard Leight Impact Sport Electronic Earmuffs. I was really impressed with these for a number of reasons, the main one being that it does two things really well, it cuts down the damaging impulse noises (e.g. nail gun, shooting rifle) and it can turn up the low level sounds (e.g. voices) so you can still hear what is going on around you.
In my situation, it meant that I could use them at work, at the shooting range and other places. These earmuffs are often marketed at target shooters at shooting ranges or for hunters, but I think for guys (and gals!) who work in noisy environments where there are impulse noises or have fun in noisy places, this is a great earmuff. I have friends who even use them at pub gigs and car rallies. The technology is pretty cool (attenuating and amplifying at the same time!). Now I can't work or play without these earmuffs.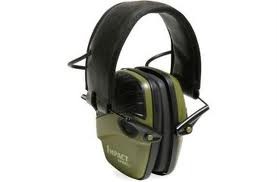 Howard Leight Impact Sport Electronic Earmuffs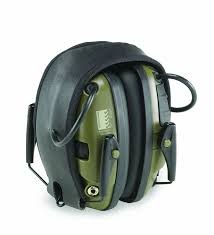 8 Fabulous Reasons why you can't go past Howard Leight Impact Sport Electronic EarmuffsNow!
Noise Reduction Rating (NRR) of 22 (dB) decibels which means your ears are well protected.
Limits amplified sounds to 82dB so you can count on your protection from hazardous impulse noises. No more ringing, sore ears
Electronically amplifies low level sounds which means you can hear conversations and the phone ring – keeping you safe and in the loop with what's going on around you – who says you've got selective hearing!!
Stereo microphones to amplify low level sounds, which means high tech sound detection and more safety for you.
Features Bilsom Technology's patented Air Flow Control™ technology for optimal attenuation across all frequencies so you can be sure your ears are well protected
olding design means easy to store in your pocket, storage box, pouch or wherever you'll need easy access to them
AUX input for connection for plugging in external MP3 players or other audio devices so you can listen to other stuff when you want
2 AAA batteries provide 200+ hours of operation saving you $$ so you can enjoy yourself and be confident that your hearing is protected
Buy Now For Continued Hearing Protection!
5 Star Customer Reviews
"The mp3 port is super convenient for listening to tunes while the earmuffs selectively block out loud noises–great for mowing & blowing the lawn.
"These are the only ear protection I have ever owned that don't compromise on the quality of a conversation while still offering excellent protection from loud noise blasts. Great buy!"
"Don't hesitate on these, buy them and enjoy them for not only shooting but for racing events, monster truck shows, concerts or even to watch tv softly when others are sleeping!!"
"The hearing amplification is awesome. I can hear even faint noises so clearly. The quality of the construction and the design is what I expected from Howard Leight."
"These Howard Leight sport/hunting headphones really rock! The sound suppresson works great and the hearing amplification is INCREDIBLE!!! They are also constructed well."
Hearing FAQs
Q: How loud is too loud? When do I need to be wearing hearing protection?
A: As a general rule of thumb, if you have to raise your voice to talk to someone who is about an arm's length away, then the noise is potentially detrimental to your ears. Also, if you have been in a noisy environment which leaves your ears  ringing or sounds seem dull or flat, you can most likely say that you were exposed to hazardous noise.
Q: What about hearing loss as we age?
A: The average person does not usually have hearing loss before approximately 60 years of age. In other words, people who are not exposed to noise and are healthy are likely to keep their hearing for many years. However, people who are exposed to noise and do not protect their hearing do in fact suffer hearing impairment earlier than this. For example, by age 25, some carpenters have the hearing of a 50 year old in comparison to their office worker colleague who works around less hazardous noise environments.
Buy Now To Receive A Special Howard Leight Impact Sport Electronic Earmuff Pack!
We are pleased to offer for a short time only,  the Howard Leight Impact Sport Electronic Earmuff Pack. This includes:
Four Pairs of Howard Leight Impact Sport Electronic Earmuffs
8 AAA batteries (so you have spares)
As our valued customer, you will receive a FREE Newsletter from time to time with loads of fab info on hearing protection, other safety tips and updates on new products
The retail value of this pack is $369.99 so this means you are really getting good value for your money, not to mention a top quality product
Buy Now & Protect Yourself Today!
Buy Now! If you want to protect your ears properly whether you're at work or having fun, pick up the Howard Leight Impact Sport Electronic Earmuffs for your own peace of mind and well-being. 
Thanks very much for Looking and Happy Shopping!!
P.S. Enjoy happier ears today!
P.P.S. I guarantee you will love the results and won't be disappointed!
P.P.P.S. You will experience the results straight away! What are you waiting for!!??

  Order Now To Hear & Feel The Difference Instantly!
Earmuffs, Electronic Sport Earmuff, Hearing Protection, Store